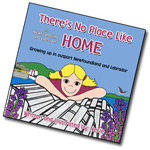 In
There's No Place Like My Newfoundland and Labrador Home
, written and illustrated by
Necie Mouland
, each double page spread features an illustration and rhyming text. Every page gives reasons for why living in Newfoundland and Labrador is great! What Newfoundlander wouldn't want to share such a book with children they love? In the back of the book there is a section about plants and sea creatures common in Newfoundland and also a glossary of some words used in the book.
This is the second book by Necie that Anna and I have read and enjoyed, the first being
Salt Fish and Scrunchions
. You can check out some
sample pages of There's No Place Like My Newfoundland and Labrador Home on Necie's website
. This is a great book for Newfoundlanders living at home to share with a child to help them realize the wonderful privilege they have living where they do. It's also great for those Newfoundlanders that are living away to share with a child and tell them about the place they used to call home. The book would also be a good resource for anyone to use in a study of Newfoundland and Labrador.
Join the April Reading Challenge for a chance to win one of 5 books donated as prizes!
Check out the Newsletter blog to read the April Newsletter
.